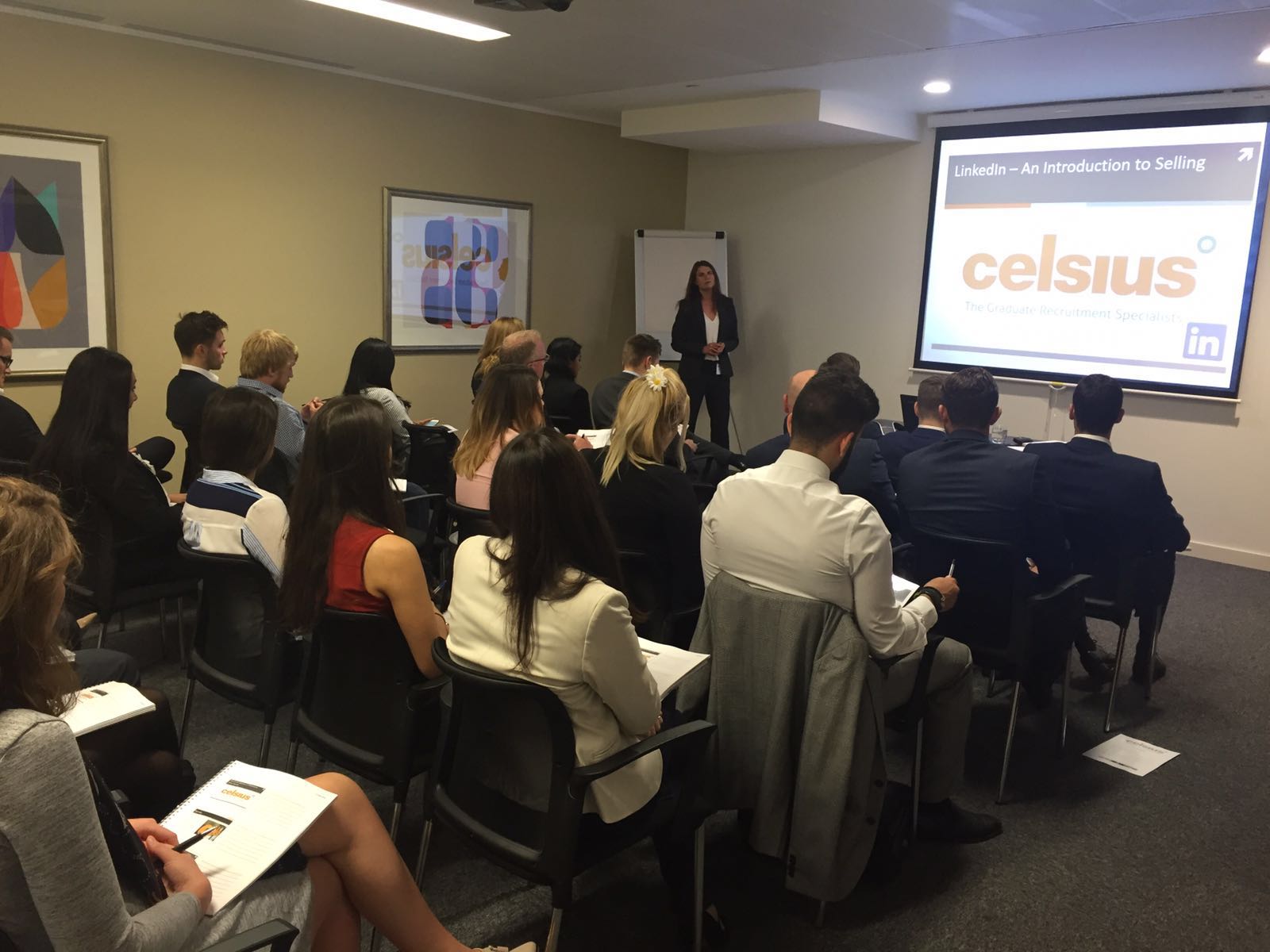 Celsius Graduate Recruitment – part of The HJ Group – held a training event at our Central London offices this week to officially launch the new addition to our training programme; The Advanced Diploma in Professional Sales.
Attending a Celsius complimentary bite-size learning event provides attendees with up to the minute, technology sector developments as well as theories and concepts that are new to the field of sales, There will also be the opportunity to network and share their experiences with like-minded professionals over a glass of bubbly!
We invited Celsius graduates (and their Managers/colleagues) along for an afternoon of networking and an informative bite-size session of our 'Maximising Social Media' course, focusing on how to use LinkedIn to maximise sales.
The 'Celsius -An Introduction to using LinkedIn in Sales' has been developed for Sales Professionals based within the technology sector and as such provides the knowledge needed to;
• Search for and identify suitable prospects
• Introduce and present themselves professionally
• Develop more effective relationships and learn how to take these 'off-line'
• Ultimately better understand how this networking site is being used as part of the sales process by the technology sector in order to drive more revenue
Endorsed by the ISMM, The Celsius Advanced Diploma in Professional Sales has been a long time in the making and we are so pleased to be able to finally offer this technology sales specific advanced course!
The Celsius Advanced Diploma in Professional Sales is extremely unique; delegates are able to choose 6 of the 12 courses on offer to ensure the training is bespoke to their individual training needs both Celsius Graduates and other sales professionals to embark on a set of modules that caters to their individual needs as they progress through their careers.
To find out more about our Celsius Sales Academy and the Advanced Diploma in Professional Sales click here or contact our Divisional Manager of Training, Jill Morris on 0161 274 9800.
Also, keep a look out here and on our LinkedIn page for details of when we will be holding our next completely FREE training sessions!