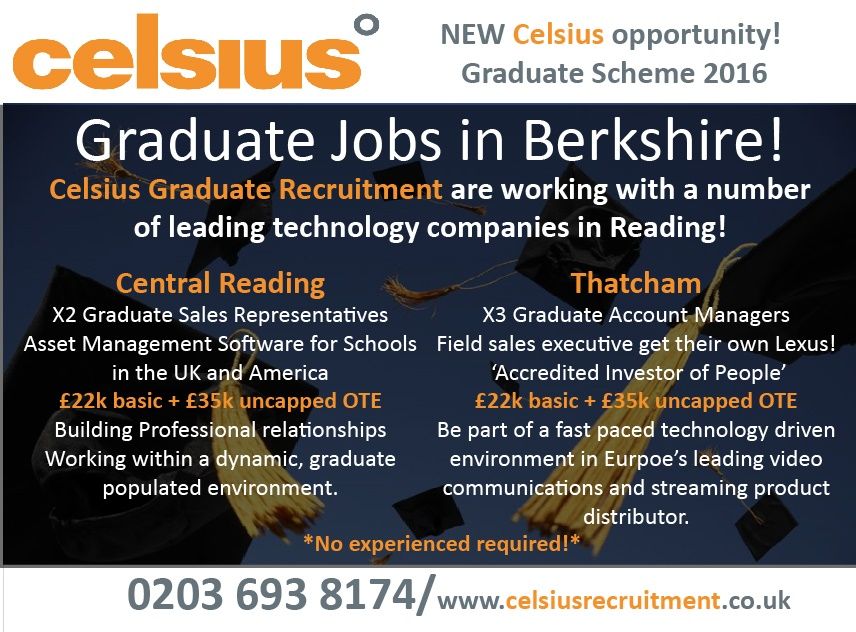 Celsius Graduate Recruitment are recruiting on behalf of not one, but two of Reading's leading graduate employers right now! Yes, that means there are current opportunities for multiple, high-achieving and ambitious graduates to hop right onto the career ladder and earn an average first year total earnings of £35,000, in business to business technology sales.
The buoyant nature of the technology industry means tech companies all over are growing faster than ever and this creates a crying demand for young, hungry fresh talent. Celsius Graduate Recruitment is recruiting for multiple Graduate Business Development and Graduate Account Manger roles with no experience required.
As well as a lucrative, fast-paced career in a dynamic technology company, you will also receive a full ISMM Diploma in Professional Sales Qualification. This three modular training course will add to your professional qualification achievements alongside the invaluable skills learned and training received in a b2b commercial environment.
As a Graduate Business Development Executive or a Graduate Account Manager, no two days will be the same. You can expect to be liaising and building high-end relationships with industry professionals on a day to day basis, researching the market, carrying out email campaigns and even in some cases visiting your clients in the field. Some of the most successful Celsius graduates having been in their roles for up to two years can see themselves becoming heads of department, team leaders and even reaching Commercial Director positions very early on in their careers.
If you are an ambitious graduate who wants to kick-start their career in the fasted growing sector in the world then the time is now to apply! Get in touch with the Celsius team on; 0203 693 8165 / apply@celsiusrecruitment.co.uk